Hamza Sheikh, MD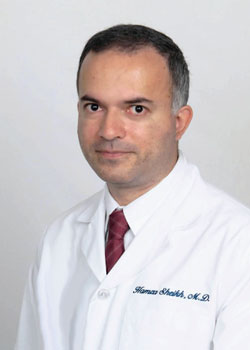 We are excited to announce the addition of Dr. Hamza Sheikh to our endocrinology team. He will see patients at our Woodstock location. Dr. Sheikh is board certified in endocrinology and internal medicine.
Dr. Sheikh earned his medical degree from the Aga Khan University, Karachi, Pakistan. He completed his internal medicine residency from LSU Shreveport, Louisiana and his fellowship from the Medical College of Wisconsin, Milwaukee. He worked in a private multi-specialty clinic in Bowling Green, Kentucky, from 2011 to 2021.
Dr. Sheikh is an experienced, dedicated, compassionate physician who is committed to providing his patients the best possible care with regards to their endocrine and metabolic health. He has expertise in the evaluation and management of the whole spectrum of endocrine diseases, including diabetes, thyroid and parathyroid disorders, obesity, lipid disorders, adrenal, pituitary and gonadal conditions, and metabolic bone disease. He has strong knowledge and understanding of the latest evidence-based medicine in the field of endocrinology.
He is a member of various endocrinology organizations, including American Association of Clinical Endocrinology and Endocrine Society.
Outside of the office, Dr. Sheikh likes to spend time with his family. He has a passion for sports, including tennis and cricket.